" Darting across paddy fields with a sketch book in hand, and pencil stuck on top of his ear, crouching low almost hiding in the thick undergrowth is a twelve year old boy whose only objective is to catch a quick glimpse of a particular bird or animal. He then rapidly sketches his subject in his book and runs back home to his easel to paint the image of the bird or animal he saw before he forgets the intricate colours that enveloped his model and its environment.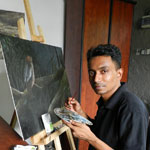 Twenty-one years later, that enthusiastic schoolboy from Nalanda College has plumed himself into a fully fledged wildlife artist, ornithologist, natural history tour leader, and wildlife researcher. Tharanga Herath is a man of amazing talent, with a razor sharp eye for detail – as even cursory glances at his wildlife paintings would prove. The colours are true to life, though saturated and exaggerated as if just after a rain shower; they bathe the viewer in all the glory of the splendours of nature.
Of his beginnings, Herath explains,, "I was first introduced to the topic of birds when my schoolteacher in Year Eight wanted each of us to make a 'Book of Birds,' and since then till now, birds have always fascinated me." It looks as if  his fascination for wildlife never fizzled out since his school days as he still wants to paint more and more, and never feels like he has had enough.
He is a self-taught artist who has not been taught Art except in school. But  during his school years, he chanced upon a good role model and mentor, who happened to live in the same neighbourhood. "My first meeting with Environmental Lawyer, Jagath Gunawardena was a chance meeting of sorts, and from then till now he has been my mentor, guiding me in bird watching and various other wildlife studies. He taught me the correct and ethical process of bird watching, which made me understand the importance of field note taking. When I was young, I used to do go into the woods to sketch birds, and later get it identified by him."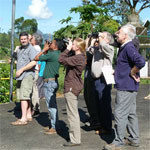 "When I was young, three of my school friends and I used to take our sketch books and explore the wild, in search of prospective subjects for our paintings. So, we would do a quick sketch of the bird or  animal and then run off home to try to bring the painting to life, emulating the colours, lights, and foliage that we saw."
 Herath is a graduate of Fisheries & Marine Science, after which he studied further to obtain the National Tourist Guide Lecturer Licence. he is also a self-taught wildlife artist. He is thankful he says "to have received the support of my family right from the beginning: they never forced me to do what they wanted, and instead allowed me to choose my own career path."
As a naturalist, he is a person who loves our natural resources and heritage, and appreciates and respects the  richness of our paradise island's bio-diversity. He says, "A wildlife painting is a combination of art, skill, patience, field experience and accurate knowledge of the subject. I believe in quality more than quantity."
Herath dispels the common notion that you need to have an inborn talent to become an artist. He explains, "Anyone can learn to draw if they take the trouble to learn. After you have learnt the basics, strive to be unique and create your own style with the artwork. If you have your own signature style, you are automatically an artist."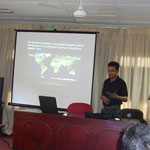 "I would be happy to guide anyone interested in learning wildlife painting."
 On Realistic Fine Art
 "All paintings begin with a pencil sketch. As wildlife painters, we have to paint the subject as is; which is known as Realistic Fine Art. A Photorealistic painting is that which looks identical to the photograph, and they need to be accurate, for which theoretical & field knowledge are both imperative. Thus, a wildlife artist needs both the artistic skills and in-depth knowledge of wildlife, along with knowledge on the biology, taxonomy, behaviour, and habitat of the species that becomes the subject of the painting. All the external features including key identification features should be depicted."
 On the process involved
As a wildlife artist I spend hours in field observation of wildlife species. Initially I collect the reference material on the subject when asked to do a painting.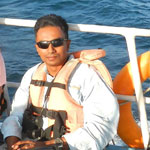 The reference material includes field sketches, photographs and other written details of all aspect of species. Firstly, I visit the possible places, where the species is found to take field sketches as well as digital photographs. In the early days when there were no digital cameras we had no option but to sketch on the field which in our younger days helped improve our drawing skills.
I produce several sketches based on the images in my mind and then select the most satisfactory one and develop it into the painting.
When you paint a species it has to be placed in the suitable habitat, which is when the background knowledge of the species comes into play.
Painting mediums explored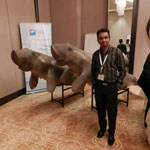 "I mostly use watercolour and acrylics as painting media. Watercolour for me is the most advanced medium and a difficult medium to paint. If you start with watercolour you can manage very well with any other media.
I do acrylic on canvas as well, and use pigment ink, colour pencils & soft pastels as other media."
One of the main things needed in wildlife painting is the patience as there are many features to complete. So it may take a long time from days to months, depending on the subject, size & the media."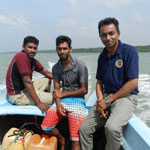 By Radhieka Peeris
ESCAPE / CEYLON TODAY * Wednesday 16 May 2012


" I should add some more names of those who give their generous support to me in my career in wildlife art.  Master artist Prasanna Weerakkody's views on my paintings contributed a lot in bringing my paintings up to present level.  From the very beginning Mr. Shantha Jayaweeera's views always encourages me and his great support as a naturalist throughout my life is highly appreciated. Both these gentlemen I met at the Young Zoologists' association, which I am so grateful to. My three good friends Darshana, Kasun and Sujan that I met at the very beginning of my wildlife studies and art, in Nalanda College are always pleased to remember. My sincere gratitude goes to my dearest parents and brother who always allowed me to progress in my own path with their fullest support. Finally I thank my loving wife Mekhala whose  encouragement and great support always takes me to a better tomorrow, while little Tharulya tries to help me in panting with few brush strokes ! "
Tharanga Herath
10th October, 2013
" I first met Tharanga Herath when I was a participant on a Sri Lanka bird tour, of which he was a co-leader.  His exceptional ability at locating birds was immediately apparent, as was his broad knowledge and enthusiasm for all aspects of Sri Lankan natural history.   At one point on the tour he quite modestly showed us some of his bird paintings that had been on display at a fine resort hotel.  These were the few unsold items remaining from an exhibition of his work, and he was taking them back home.  Although they were relatively early works, I was nonetheless amazed by their great beauty, and astounded when I learned he was self-taught.  Several of the birds we saw on the tour ranked high on my list of species I had hoped to have the good fortune to see some day, and at the end of the tour I asked Tharanga for paintings of four of these.  I thought they would make ideal reminders of some outstanding encounters with wonderful birds, and would bring life to my little windowless office.  The paintings I received were breathtaking; not only were the birds rendered in precise and magnificent detail, but the accuracy with which their settings were done was superb as well.  In my opinion his work is a stellar example of the finest form of nature art, with exquisitely painted birds just full of life, situated in natural settings remarkably evocative of their atmosphere, each work in its entirety testifying to the artist's obvious love of his subjects.  I have since been unable to resist acquiring several more of his paintings in various media, which now grace not only my office, but the walls of my home as well.  Tharanga's paintings provide a delightful means for uplifting one's spirits and recalling exceptional  moments in the field – as well as for providing hope for exciting experiences yet to come."
Frank G. Witebsky (MD)
1300 Alderton Lane, Silver Spring, Maryland, USA